Heavy Equipment Rental Company in Washington

Turn to our heavy equipment rental company in Washington for all your construction and heavy machinery needs. We offer a huge selection of equipment rental for construction and industrial projects in the Greater Seattle area. Get in touch today to access top-quality construction machinery from Active Excavator Rentals.
Benefits of Renting
Renting, instead of buying heavy equipment, provides flexibility and enhances your ability to complete projects on schedule, especially when interruptions due to mechanical issues occur. You will pay less initially for the rental while still getting to use the equipment as needed. Additionally, you can skip insurance premiums and maintenance costs by renting.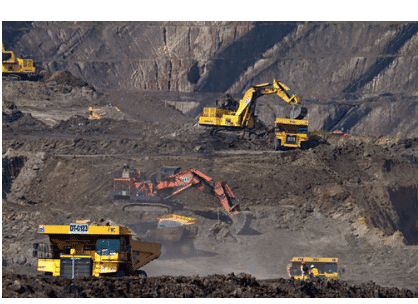 Industrial-Strength Excavator Rentals for Contractors
Excavation contractors must work as efficiently as possible to provide excellent service to their clients and achieve a good profit margin. Time is money; you can't let an equipment malfunction slow you down. So, whether your excavation equipment has been failing or you don't have enough demand to warrant owning an excavator, we can rent it to you. Contact us today to learn more.
Premier Equipment Rental and Customer Service
Active Excavator Rentals takes pride in providing well-maintained equipment. We are confident that the possibilities of a mechanical breakdown are improbable when you use our tools. Our seasoned mechanics and well-stored service trucks provide unmatched field support. These are some of the reasons why our excavator rental company is unparalleled in Greater Seattle in terms of equipment, pricing, maintenance, and customer service.
Excavator Rentals Delivered to Your Job Site
At Active Excavator Rentals, we deliver the equipment you want to rent directly to your work site so that you and your crew can work with as little downtime as possible. Our large selection of excavator rentals includes only the highest quality brands, such as Link-Belt, Komatsu, Hitachi, and Yanmar.
Our Available Equipment
Yanmar Vi055-5B Class
Approx. Weight: 11,500lbs
Width: 6′ 6″
Max. Dig Depth: 13′
Max. Reach: 20′ 4″
Lift: 5,585lbs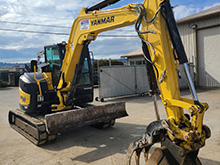 Yanmar ViO80 Class
Approx. Weight: 17,650lbs
Width: 7′ 5″
Max. Dig Depth: 14′ 7″
Max. Reach: 22′
Lift: 9,415lbs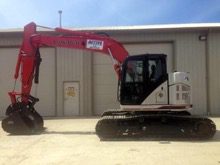 Link-Belt 145X4LC Class
Approx. Weight: 33,600lbs
Width: 8' 6"
Max. Dig Depth: 18' 1"
Max. Reach: 28' 8"
Lift: 18,900lbs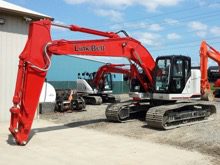 Link-Belt 235 Class
Approx. Weight: 56,879lbs

 

Width: 10′ 6″

 

Max. Dig Depth: 21′ 1″

 

Max. Reach: 31′ 9″

 

Lift: 21,850lbs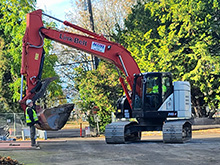 Link-Belt 245X4LC Class
Approx. Weight: 56,900lbs
Width: 10' 6"
Max. Dig Depth: 21' 10"
Max. Reach: 29' 1"
Lift: 15,504lbs
Zaxis 350 Class
Approx. Weight: 77,269lbs

 

Width: 11′

 

Max. Dig Depth: 24′ 3″

 

Max. Reach: 36′ 5″

 

Lift: 34,447lbs

 
Link-Belt 350X4 Class
Approx. Weight: 80,028lbs

 

Width: 11′ 2″

 

Max. Dig Depth: 24′

 

Max. Reach: 36′

 

Lift: 34,350lbs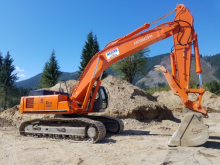 Zaxis 450 Class
Approx. Weight: 110,000lbs

 

Width: 11′ 7″

 

Max. Dig Depth: 25′ 6″

 

Max. Reach: 36′ 8″

 

Lift: 40,000lbs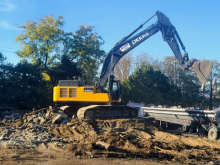 John Deere 470G LC Class
Approx. Weight: 112,916lbs
Width: 11′ 11″
Max. Dig Depth: 27′ 2″
Max. Reach: 40′ 3″
Lift: 41,500lbs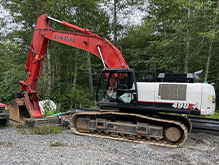 Link-Belt 490X4 Class
Approx. Weight: 112,200lbs
Width: 12'
Max. Dig Depth: 27′
Max. Reach: 41'
Lift: 40,000lbs
Rent excavators and attachments from us; call us today