Heavy Equipment Rental Company in Greater Seattle

Renting instead of purchasing heavy equipment offers flexibility and enhances the ability to complete projects on schedule if mechanical issues occur. Get access to top-quality construction machinery when you rent from our trusted heavy equipment rental company in Greater Seattle.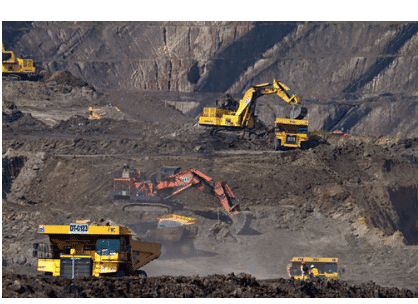 Industrial-Strength Excavator Rentals for Contractors
As a building or excavation contractor, you must work as efficiently as possible to provide excellent service to your clients and achieve a good profit margin. Time is money; you can't afford downtime on a job site due to an equipment malfunction. Whether your excavation equipment has been unreliable or you don't have enough demand to warrant owning your own excavator, we have you covered. Find out why we are the contractors' top choice in the area. 
Top-Notch Equipment Rentals and Customer Service Support
With our well-maintained equipment, the possibilities of a mechanical breakdown are highly unlikely. Our knowledgeable mechanics and well-stocked service trucks provide unmatched field support. No other excavator rental company in the area can match us in terms of equipment, maintenance, pricing, and customer service. Get a project moving quickly; we will help you get digging quickly. 
Dependable Excavator Rentals Delivered to Your Job Site
We deliver directly to your site so you and your crew can work with as little downtime as possible. Perhaps you are thinking of buying equipment; come see us to try it before buying. Our large selection of excavator rentals includes only the highest quality brands, such as Linkbelt, Hitachi, Komatsu, and Yanmar.
Guaranteed Regular Maintenance by Qualified Mechanics
From excavators to breakers and hoe packs, our equipment is regularly inspected and maintained by qualified mechanics. With us, you can be confident that we will provide you with top-quality excavator rentals.
Our Available Equipment
Yanmar Vi055-5B Class
Approx. Weight: 11,500lbs
Width: 6′ 6″
Max. Dig Depth: 13′
Max. Reach: 20′ 4″
Lift: 5,585lbs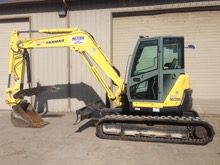 Yanmar ViO80 Class
Approx. Weight: 17,650lbs
Width: 7′ 5″
Max. Dig Depth: 14′ 7″
Max. Reach: 22′
Lift: 9,415lbs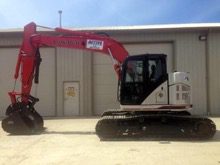 Link-Belt 145X3 Class
Approx. Weight: 33,200lbs

 

Width: 8′ 6″

 

Max. Dig Depth: 18′

 

Max. Reach: 26′ 8″

 

Lift: 18,900lbs

 
Zaxis 225 Class
Approx. Weight: 53,936lbs

 

Width: 10′ 6″

 

Max. Dig Depth: 20′ 5″

 

Max. Reach: 32′

 

Lift: 22,077lbs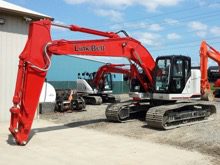 Link-Belt 235 Class
Approx. Weight: 56,879lbs

 

Width: 10′ 6″

 

Max. Dig Depth: 21′ 1″

 

Max. Reach: 31′ 9″

 

Lift: 21,850lbs

 
Zaxis 350 Class
Approx. Weight: 77,269lbs

 

Width: 11′

 

Max. Dig Depth: 24′ 3″

 

Max. Reach: 36′ 5″

 

Lift: 34,447lbs

 
Link-Belt 350 Class
Approx. Weight: 80,028lbs

 

Width: 11′ 2″

 

Max. Dig Depth: 24′

 

Max. Reach: 36′

 

Lift: 34,350lbs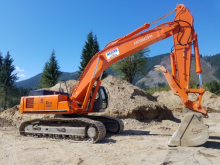 Zaxis 450 Class
Approx. Weight: 110,000lbs

 

Width: 11′ 7″

 

Max. Dig Depth: 25′ 6″

 

Max. Reach: 36′ 8″

 

Lift: 40,000lbs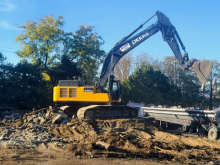 John Deere 470 Class
Approx. Weight: 110,000lbs

 

Width: 11′ 7″

 

Max. Dig Depth: 25′ 6″

 

Max. Reach: 39′ 7″

 

Lift: 41,500lbs

 
Rent excavators and attachments from us; call us today